A trip for 40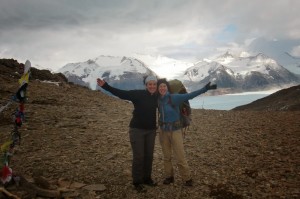 My friend Katherine and I decided to go to Southern Chile, to trek the Torres del Paine to celebrate our 40th birthdays. We have done a yearly trip over the past 10 years of friendship, from backcountry skiing in the Chic-Chocs and New Hampshire, to peak-bagging in the Cascades, to backpacking in Oregon, to trekking in Nepal.
Our trips have been fairly epic and we knew that for 40, we were going to have to go big.  Nah, it wasn't just for 40.  We just like to go big and go backpacking all over the world.  40 is just a convenient reason for a big trip (listen boss-man, I gotta go to South America.  I'm 40, man!).
We threw out all sorts of ideas in the fall and landed on heading to Southern Patagonia, to Torres del Paine, which I had missed the last time I was down in Patagonia due to a huge forest fire.  I love Patagonia (big skies!  big mountains!  big glaciers!) and was itching to get back to check out Torres.
So, there we were, in the Punta Arenas airport at the end of February, meeting up after flying from East and West coasts.
After a few days in Punta Arenas getting supplies, drinking some beers and eating pizza (Argentina and Chile really like their pizza), we were ready to go.

We decided to do the 'Q' – which is a route that starts in the south at Administración, in order to avoid some of the crowds and approach the park slowly.  It was not a mistake.
Our first day, we barely saw anyone, but as soon as we got on the main trek, it was quite full, especially because we were doing the 'W' first.  Few notes about the 'W' — anyone can do it.  You can hire someone to carry your gear, you can stay in fancy-ish refugios, you can have people cook for you in said-refugios.  Or, you can carry all your food, sleep in the camp sites, and DIY (like we did).  Either way, anyone can do it – which means we saw all sorts of people over the next few days.  Which was both fun, and amusing.
But, there is a reason people do the 'W'.  It is beautiful.  From Valle Frances, to hiking around Los Cuernos, to the namesake of the park — Los Torres.
Once we left the 'W', after a stop at the fancy hotel for un cafe, we headed to the backside of the park, which they say only 10% of the visitors head to.  While we had fun meeting travelers from all over, we were ready for a little… less.
From there, the road was much less traveled.  It wasn't a 10 inch (at least) trench in the ground.  We didn't see anyone our first day.
Glorious.
The sun was shining, the wind was blowing (but not so crazy that Katherine was in danger of being blown off a ridge #truestory) and it was mellow walking.
And from there, the views were just pretty much epic.  Glaciers.  Lakes.  Mountains.  Patagonia….. I so love you.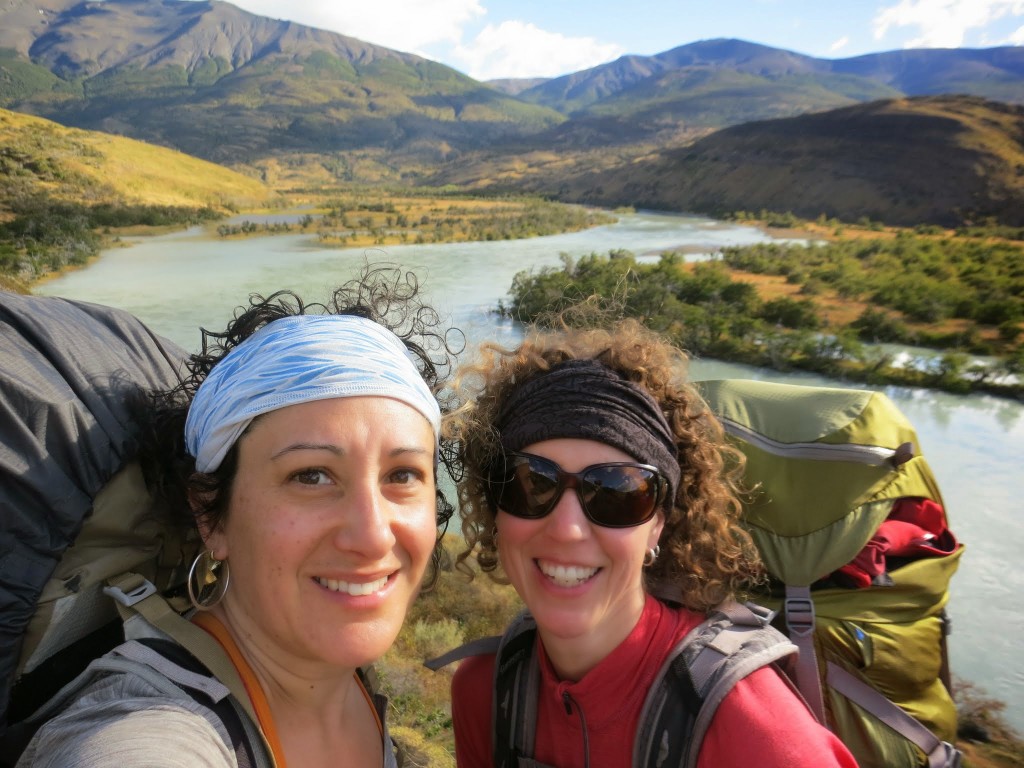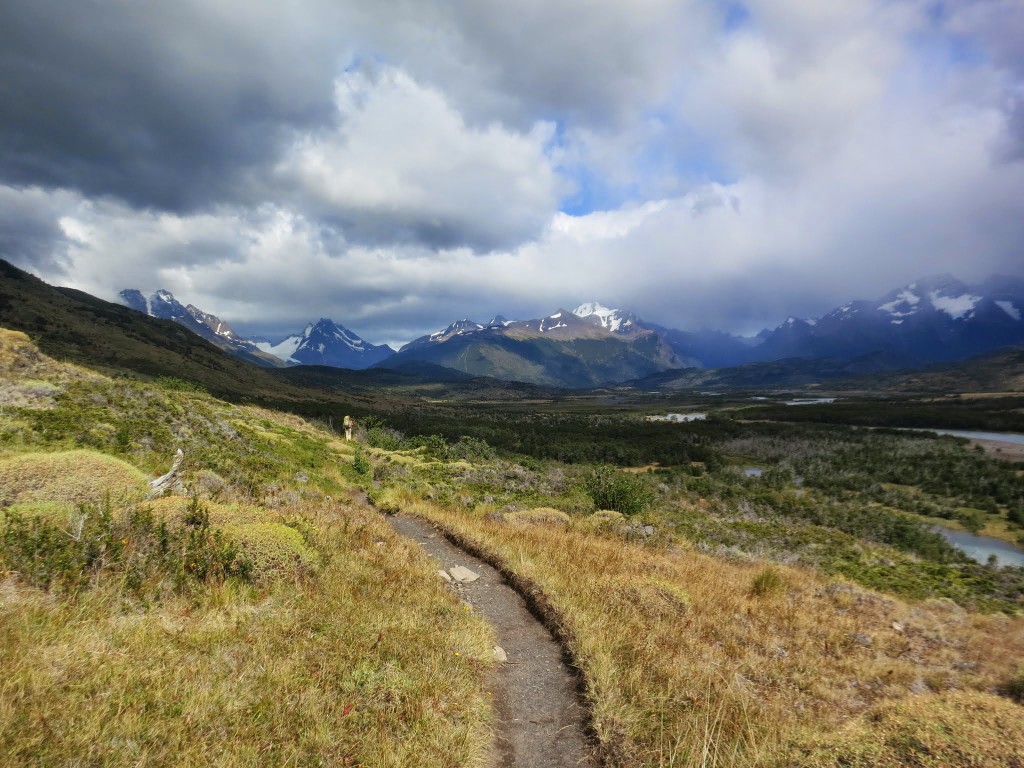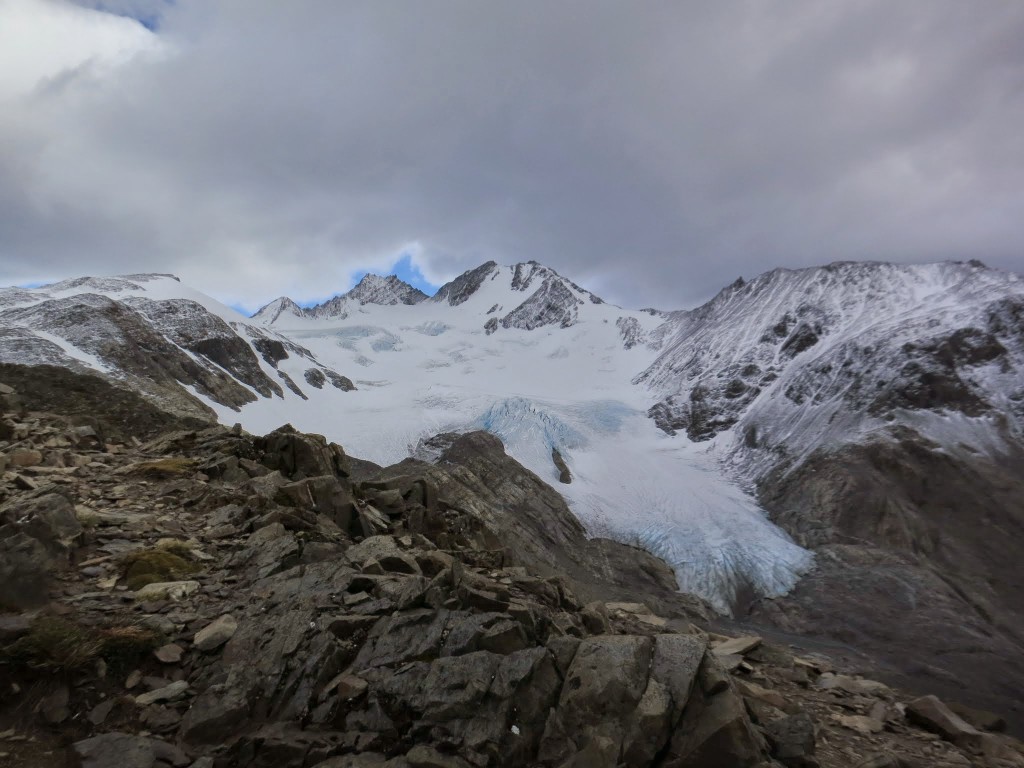 And everything was going great, until we got to Campamento Perros, which was right before the pass, our highest point in the trek.  And, to be clear — Paso John Gardner is not all that high, in relation to the other passes I have been on, it is just a bit over 4,000 feet.  But, the winds are known to be epic.  And, with all-day, soak to the bone rain at Perros, the pass is known to close if there is too much snow.  Now, K and I know how to hike in the snow, but…. closing the pass is a whole other thing. And, while the story of that afternoon is worthy of it's own post, suffice it to say that the next day turned out to be beautiful (after a full day of all-day, soak-to-the-bone rain).
Which allowed us to go the pass.  Which was as epic as they had said.  (Did I mention that I love Patagonia for big skis and big glaciers?)
And, unbelievable, the winds at the pass were …. nothing.  And the sun was out, and it was…. awesome!  We made our way down, around the park, following the glacier down, and just kept stopping for more and more pictures and celebrating our luck.
And… of course…. the money-shot.
From there, our trip was pretty much over.  We were taking the catamaran out, and just needed to get there on time.  7 nights in the park, and we were headed off to our next adventure.
Torres…. you did not disappoint.