Pato, pato….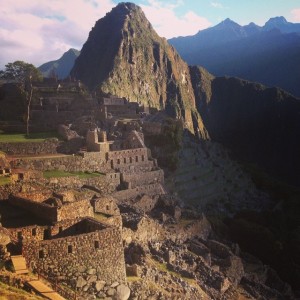 We circled the group up in the main plaza in Aguas Calientes.  We had already eaten dinner, following a long day visiting Machu Picchu.  The kids were tired, as we had gotten up at about 4 in the morning, catching the early morning bus up to the ruins.  But we still had several hours until our 10:00 train.  The idea is that we would have our evening meeting in the plaza, take advantage of the time and space and then move on to the train station to wait to board.
The leaders of the day gathered the group up, and we sat down in a circle.  Looking like any other large gringo group, we had our backpacks and looked a little rough around the edges. Fighting through their tiredness, they started the meeting, sharing highs and lows of the day – following the regular routine.
All of a sudden two young girls ran up  – one made room for herself in the circle, the other ran around the circle tapping us each on the head 'pato, pato…'.  Yes – the classic game of 'Duck, Duck, Goose!' – but this time 'Pato, Pato, Ganso!'.  We were all taken by surprise, but of course, we weren't going to let these two girls win – so we put up a good fight.  For the next 45 minutes, we played a rousing game of Pato, Pato, Ganso! – much to the delight of the girls, and the crowd that started watching.
Finally, the girls got tired of that – and lead the kids in a variety of other games – some that involved covering eyes and tickle attacks, and then another complicated game that involved kids sitting in lines – that basically seemed like the girls giving a lot of directions – happily bossing the gringos around.
We played for hours, laughing, talking in a mix of English and Spanish, hugs, and more laughter.  I'll gladly take an unexpected game of Pato, Pato  any day.