Solstice Bikepacking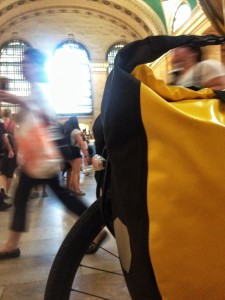 When I got my trusty stead last summer, I got it for a specific reason – hoping to eventually take off from NYC by bike.  I dream of riding south through the Andes.  I love the idea of traveling by bike – slow enough to see what's going on around me, but faster than walking.  I love the idea of being self-sufficient, carrying everything I need.  BUT — I had yet to actually try going out for a tour.
Details details friends….  I'm an accomplished backpacking and trekker.  How hard could it be?!
um, WHY DIDN'T ANYONE TELL ME HOW HARD THIS IS?!?!?!?!
So….  turns out for my first trip, maybe I should have eased in a bit more….
The weather was glorious, we rode about 125 miles from Cold Spring to Nimham State Forest and then up eastern Dutchess County, dipping in and out of Connecticut, ending up at Stissing Mountain State Forest and then back to Poughkeepsie to hit the train up to head back to NYC.
Turns out that hills are really hard when you're carrying all your gear.  And that dirt roads are what dreams are made of.
This was on day 1, coming down a beautiful dirt road near Fahnstock Park.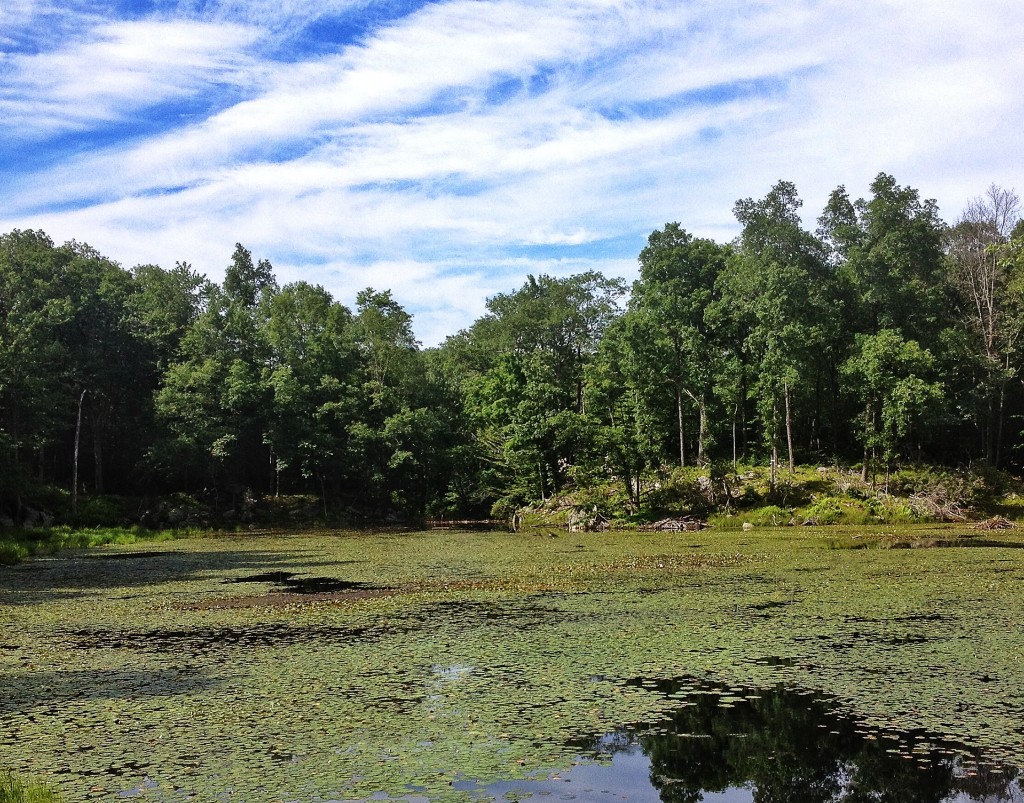 We woke early, had an immediate climb(s), but passed lovely fields, which were full of birds.  Hard to feel like you are suffering when the sun is out, you're on a country road and the birds are flying all around.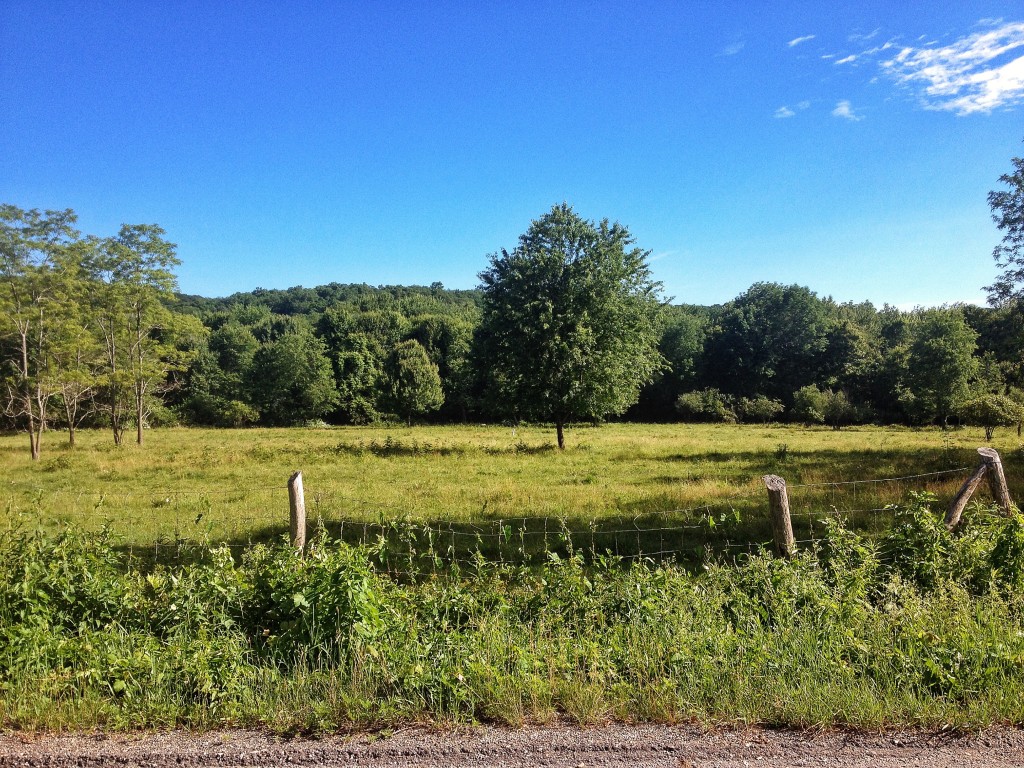 This road was hands down my favorite part of the trip – a quiet dirt road that stretched on for a few miles — I could have traveled the whole way on roads like this (hello South America!).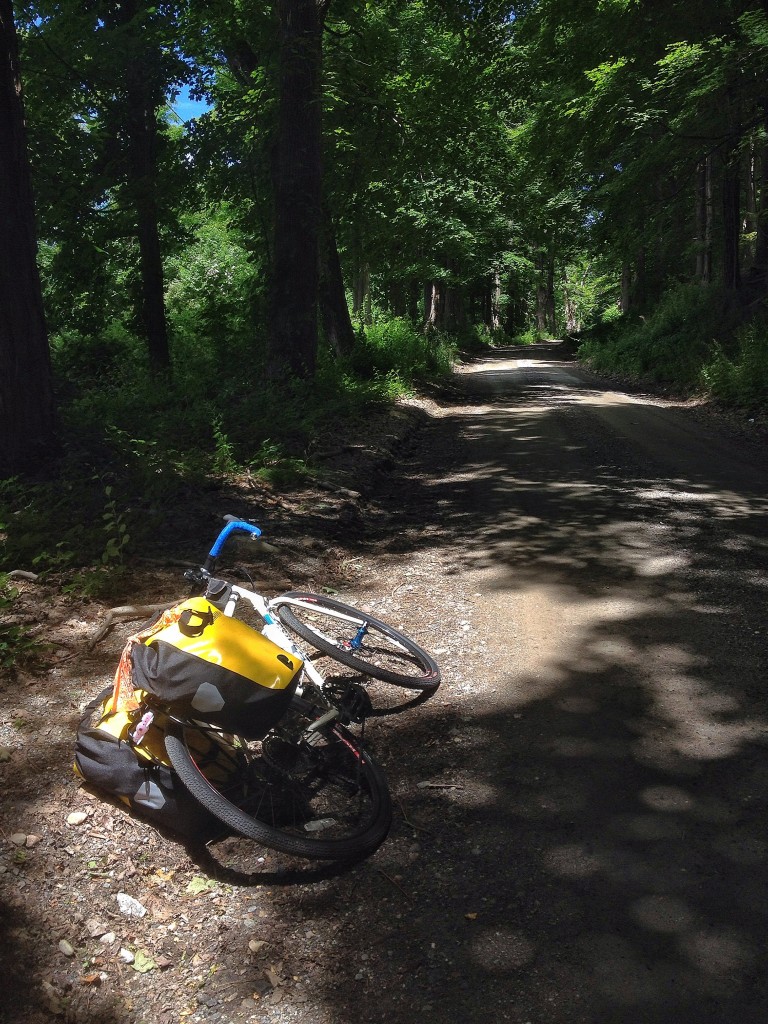 We spent a lot of Saturday heading north, so the hills were not so bad — as most of them run north south.  But eventually, we had to head west – and that was when the hard(er) hills came.  Here you can see the valley in which we came from.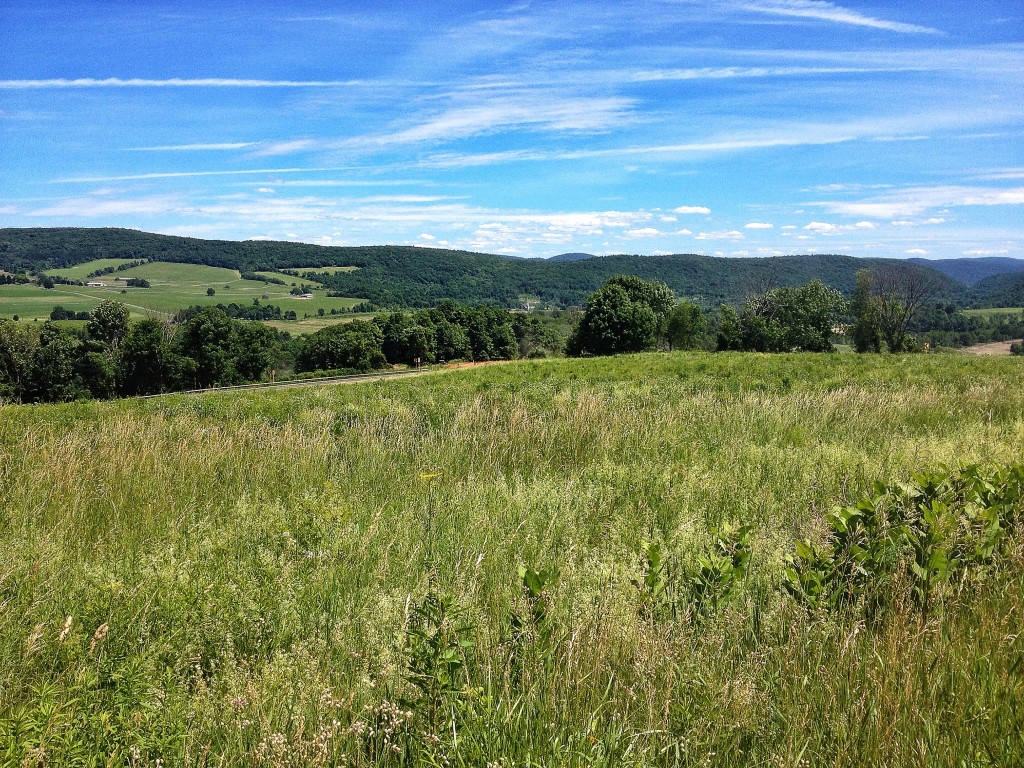 Somehow that picture doesn't quite capture it….  I walked my bike up part of it.  I seriously don't know how people are doing it in the Andes….  Either I am going to have to add some chain rings or….  walk my bike a lot.
Saturday was about 75 miles.  We got up early to crush out the last 25 miles and head for the train.  Since we were mostly headed down into the Hudson Valley, we arrived early and got to ride across the Hudson River walkway.
Within two hours, I was back in the city and rolling over the Manhattan Bridge towards home – ready to drink beer and cheer on USA in the world cup!
Verdict?
I love it!  I can't wait to do more! I can't wait to figure out my systems and be in places where it is easier to ride dirt roads and find places to camp.  I loved getting into my tent in view of my bike and knowing I got myself there.  I love that I can ride hard, or not.  That I can stop where I want along the way.  And though it was really hard and I will need to do some tinkering with my bike – it turns out that it is all that I had hoped it would be.