Spring in Brooklyn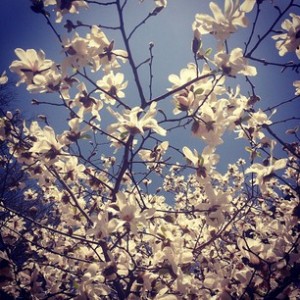 Yeah, I too wish I could think of a better title for this post.  But, it's true.  Spring has finally gotten here (hello, longest winter EVER!).
So, now it's time to be outside and play.  The sun is shining, the weather is warmer (mid-60s today) and the flowers are all in bloom.  It's pretty much amazing.
I finally had a weekend when I didn't have a lot of plans (travel!  WFR-recert!  work!  crazy-making!), and it just so happened to be a public art walk weekend, so I got out after it.  A friend of mine and I went to check out some of the public murals in Gowanus, a section of Brooklyn not far from me.  Groundswell was the hosting organization and they work with folks locally to create beautiful works of public art.
Mural #1
This mural was created by a team of youth who researched how water gets to NYC.  NYC actually has amazing tap water that comes from upstate NY.  The site of this mural, in Gowanus, is on top of the largest public work in the city – a 3rd tunnel to bring water into the city.  Prior to the 70s, there were only two tunnels, which had the city worried in case they needed to turn one of them off.  They haven't yet finished the 3rd tunnel, and where this mural is, that is the location of how far the tunnel has gotten. It is slated to be finished by 2050.
Oh, that fence you notice?  Yeah, this was suppose to be a park for the community.  As you can see, it hasn't really happened yet.  Maybe slated to open in 2050?
Mural #2
This mural was done by a team of young women who decided on the topic and came up with this piece of work 'I deal, I dream, I do'.  I'd say it speaks for itself pretty well.
Mural #3
This mural stretches over multiple sides of this building and tells a story over time.  It focused mostly on community building – from tenement rights (see the keys in the upper right hand of mural), to reintegrating prisoners back into the community, to creating places for the community to come together to buy food – all under the quote from MLK 'Injustice anywhere is a threat to justice everywhere'.
Mural #4
This mural came out of a community need for safer streets.  These young men were all hit by cars or trucks, all of whom were using 3rd avenue as a shortcut around the BQE.  They community worked with the Transportation Alliance, and also put in some traffic mellowing tactics – like lights, wider sidewalks and street lights.
_________
Finishing up the tour, we stopped by Groundswell's studio and saw some of the murals that have been prepped this winter.  They look like they will be pretty amazing once up on the streets.
__________
After leaving the studio, we happened upon a store that sells (and rents) movie props.  Yes, you too can get your very own wine bottle that appeared in some random movie (true story).  It was part vintage clothes, part totally random.  Here are some of our highlights.
or you can get your drugs in another kind of box.
The other highlight of the day was seeing this car on the street.  At the time, we were on the tour, so we didn't have time to stop and wonder and ask questions — though, I had to capture a picture — as it is pretty awesome.  Later, I found out that it is MCA day here in the city, celebrating MCA and the Beastie Boys (which I learned through this ah-mazing video of monks breakdancing).
Just another glorious day in Brooklyn.