Vancouver Island – Part 2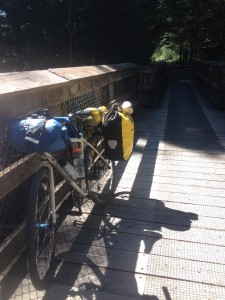 You'd think I never backpacked or camped before, I was such a shit show.
Lost my steri-pen, left the nozzle of my drom open – creating a small pond in one corner of my tent during the night, soaking my maps; and camped on an incline, so I spend the night fighting gravity.
WTF?! you'd think this was my first go… my systems were a mess, panniers seeming to be an endless abyss.
Pull your shit together, Aurora.
And that was just my first morning.
Day 1 took me out of Victoria, riding up Highway 1, to turn off for Shawnigan Lake. It was mostly uphill to get there, but not terrible. Two cyclists passed me on the 1, matching kits, little, light bikes – saying, come on, let's go, as they grinned at me and flew by.
Ha.
Ha.
A few cheers from passing cars kept me rolling and soon I got to the turn off, and a real hill (uh, I might have walked up part of it) in order to reach the Trans-Canada Trail – an amazing rail-trail that seemed like heaven after riding the shoulder of the busy highway (first of many times I say to myself… I prefer dirt and gravel and remote-ness).
I know it's not possible that the trail seemed to go downhill the whole way, but that is just how good it was.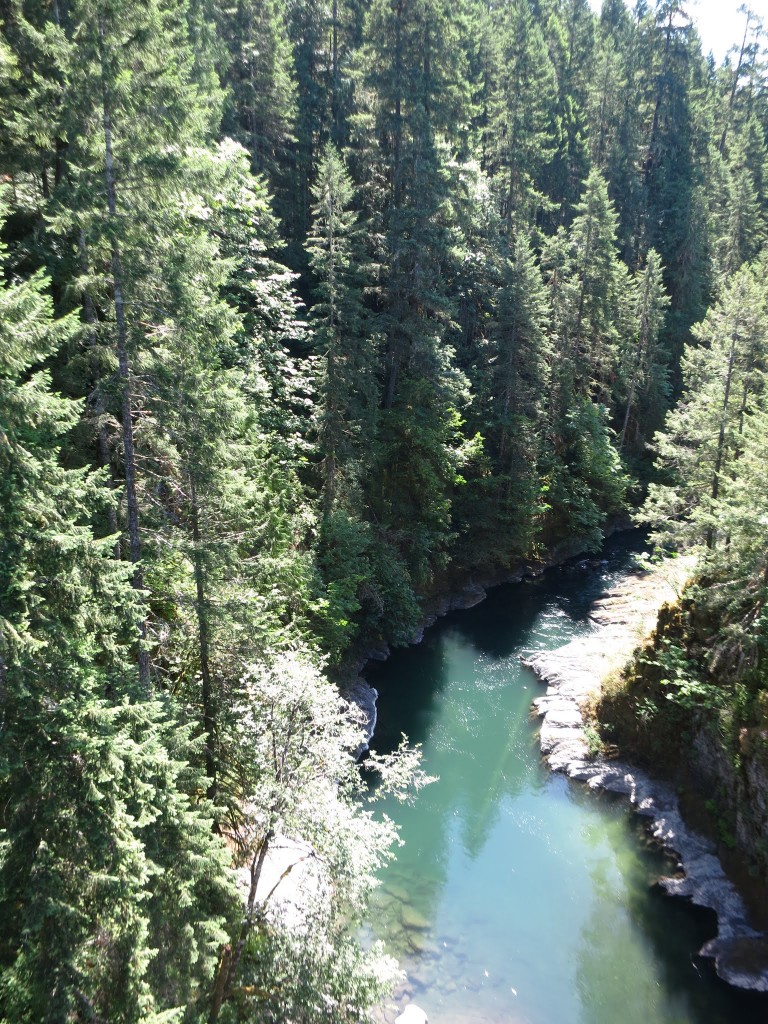 There were beautiful rivers to dunk my head, shade to keep me cool and….
(and we won't talk about the devil's club that seemed to be hiding in with the berries….)
I found a spot to camp at Cowichan Lake, the end of the TCT – had a chance to jump in the water and enjoy the views.
It was a great ride. And other than being a shit show at Cowichan Lake, all was good for a first day.
Day 2 – once I figured out my systems, life was good.  Thanks to the awesome and generous Adam of Vancouver (I connected with him via bikepacking.net), who totally hooked me up with route information, I was happily riding gravel roads to Bamfield.
Ok, let's be clear….. I was happy riding gravel roads for most of the day… ok, some of the day.  Ok…. it was a lot more fun in retrospect (type 2 fun!  yeehaw!)
It was hot. Like, really hot.
There were a lot of clear cuts.
I fell.
(Wiped out in the loose, thick gravel. If I had been watching me, I would have laughed too. And if I had been with someone, I would have cried. Instead, I popped back up – I'm fine, I'm fine, just a little road rash!)
The spot I was going to camp had barriers up and 'bridge out' signs and scary huge trucks.
(ok, they weren't that scary, they were just really big. And it was still early in the day…. so I kept going)
(uh, note to self…. that might be when it stopped being fun, dumb-ass)
The map had a symbol for 'rustic' camping just north of Bamfield – I can get there, it will be beautiful – I thought to myself when I left the spot I was going to camp at 2.
And I did get there.
And…. all that was there was an RV camp, wanting to charge me $44 for the night. To sleep on the lawn. And they knew nothing of said rustic camping.  #thanksnothanks
I was so tired, I almost did cry at that point (and, I had ridden down some nice big hills to get there – so naturally, all I could think of was…. motherfucker, now I need to ride up those hills).
But, back I rode, s l o w l y up those hills, back towards the lake I had just come from.
I tucked into the first boat launch I saw, bummed to see a truck there, but too tired to care. I walked in, as a friendly adorable dog ran up and deposited a stick at my feet. I tossed it off into the water and said hi to the older man sitting by his truck – and asked him if he minded if I camped there as well. I think he was surprised to see me, surprised that I had arrived by bike, but not only was I thrilled to not be riding anymore, I couldn't wait needed to get in that water.
'Sure, set up your tent, get settled and tell me about where you're coming from when you're ready – I've got a cold beer for you'
Those are beautiful words, my new friend, beautiful words.
And, thus — in no time at all – the tent was set up, I took a dip in the lake, beers were had and I chatted with my new friend as we exchanged stories about biking, camping and travels.
A solid end to a second day on the road.