Reaching the end…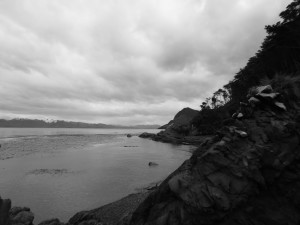 We reached the end of the land, the bottom of the final portion of final push up to the cross – Cruz de los Mares – and sat down for lunch. It was almost 4:00 in the afternoon, we had been walking since 7:30 that morning, and had already crossed two rivers.
This was our first real break of the day, and we relished those 30 minutes – snacking on avocado and cheese, bread and peanut butter. The walk had been tough – muddy trails through overgrown temperate rain-forests, climbing over and under huge downed, dried up-beach trees, and slippery algae covered rocks that steeply dropped into the ocean.
We still had further to go – up to the cross, to the southern-most end of the continental South American continent, and then back to a place where we could sleep – ideally across one of the rivers we had crossed earlier that day. We were doing our best to time our return trip with the tides, but we also knew we had to get back.
The description, from our map we had purchased back at our hostel in Punta Arenas, said that it would take about an hour and 15 minutes to reach the top. We had only an hour, as our goal was to be back at this spot by 6:00, to start the return journey. To cross all that we had already come through.
---
Three weeks after I returned from Chile, the trekking map I had ordered for Cabo Froward arrived. 'Cabo Froward: Trekking at the tip of the Americas' described the trek that goes from the Santa Maria river, south of Punta Arenas, and travels along the Magellan Strait to the tip of mainland South America. To the end of the continent.
The map describes the trek: "the difficulty of this route lies more in the physical aspects than in the technical ones, as most of the trekking is through 'leg-eating' beaches whose appearance varies from step to step. Sand, gravel and rocks cover the path. In many areas the presences of wet rocks covered with algae make each step demand extra effort and vigilance."
All of this turned out to be true.
---
We reached the cross in a 45 minutes, sweat coating our t-shirts, breathing hard, having hustled up the muddy, wet path, up the ladders, and finally to the cross.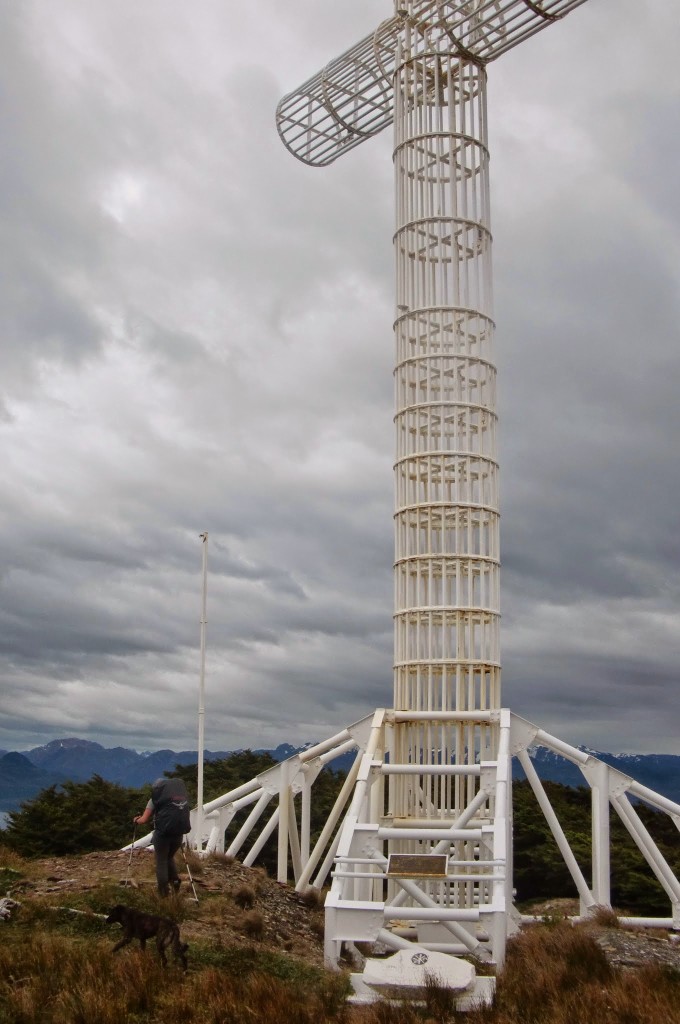 The view was beautiful and we savored our previous few minutes at the top, but as any good mountaineer knows – getting to the top is only half the challenge. We still had a long way to go, and very little of it easy.
I slipped a few times on the way down, sliding in the mud. But I also knew it was because I was tired. It had already been a long day, and I had a lot more to go – all of which required my full attention. I talked to myself, urging myself to pull it together, to focus. Katherine later told me that she too was worried, every time I slipped.
We reached the bottom at 6:00, right on schedule. We split a bar, pulled ourselves together, and started to make our way back towards Rio Nodales, hoping to cross it at night.
---
Everything we had read told us that this trek would take 5 or 6 days. But it was hard to believe, since all the descriptions we could find included short days, and the whole path was only 40K one way. How could 80K take 6 days? That was less than 10 miles a day…
Being confident backpackers, I was sure that we could do it in less time. But, everyone we spoke to – even the owner of our hostel, who use to guide the trail said it would be hard to do it in 5 – he did it once but was really pushing himself – and we should really plan for at least 6.
And, we didn't have 6 days before we left the country.
But, 3 days later, we believed those descriptions.
The fact that we had even gotten that far was a surprise to both us. Our first day on the trail included a wrong turn, though corrected, but that added miles to our day. And rain. So. Much. Rain.
And then we got to our first river crossing – that just seemed high. We just couldn't figure out how to cross it. And it was cold and windy and we ended up waiting until we felt better to cross, which meant that we lost precious hours that we needed in order to reach the next river.
And by the time we got to the next river, having crossed a soggy, wet bog, we had missed the timing on the river crossing – and instead got stuck in a tiny point where we watched the afternoon pass by until the tide was low enough for us to retreat back to a spot to camp. We resigned ourselves to one river crossing in two days – it seemed what we had in front of us (2 river crossings, getting to the cross, and then repeating everything) made it seem unlikely that we would actually make it.
---
Once we hit the coast, we knew we had a long section of downed trees. On the way in we had climbed over and under, but at this point in the day, we just walked into the ocean, trying to maximize energy and time.
After that section of beach, we had a muddy forest section. From our trip in, we knew: trees, forest, slippery rocks. Each of us diving the sections up in our heads, trying to get through each one safely. Before it was dark.
'If we just get here by this time…' ran through my head, trying to calculate the danger, the risk.
Finally, we got to the portion of the trail I was most nervous about. The steep, slippery rocks, covered in algae. And that was when it started to get dark. Headlamps came out of packs, another bar split between us and we entered our own worlds, pushing ahead – sometimes together, sometimes not – but all the while staying focused on the task at hand.
With the darkness and the circle of light from our headlamps, sometimes it was hard to tell exactly where to go. At one point, it seemed that I had to reach out across the water and then scale along the side of the rock, gripping the edge of the rock in my fingers, making my way. If I had fallen, the results would have been really quite bad.
Katherine was much more sure-footed than I, and soon her light was far in the distance, but eventually, as the rocks became more and more spread out, I caught up to her and soon we reached the 'easier' section – rocky beach walking.
---
When we woke up on day 3, having only crossed one river the previous day, we were skeptical about how far we could get. We retraced our steps to the site of our long afternoon and were thrilled to see that Rio Yumel looked passable. Passable enough, if we took off our clothes.
Having crossed Rio Yumbel, we headed for Rio Nodales – all of a sudden realizing that this trek was within reach.
---
We reached Rio Nodales close to 10 and while it was low tide, we just couldn't see the other side. It was so dark. No stars, no moon. Just murky, deep darkness. I was convinced we should cross in one place, Katherine another. I tried walking out into the water, the ocean lapping higher and higher. As it reached my upper thighs, my stomach dropped as I realized I was wandering out into the ocean in the middle of night.
Finally, I just suggested we bed down and approach it in the morning, when we could see.
We set up our tent, soaked some ramen in water (our stove died on day 2), crunched it down and crawled into our sleeping bags. 14 hours of almost non-stop walking was done.
All we had to do was get up early, cross 3 rivers and walk as far as we could the next day. Then sleep, and head for the bus on Friday. Though we had a big day in front of us – we knew we could do it. The hardest was behind us.