Señor Perrito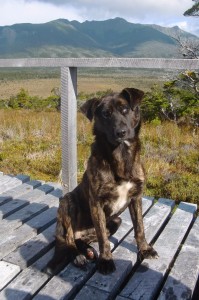 We first met Señor Perrito in the driving rain.
He was following a couple and so we presumed he belonged to them. Plus, the tide was rising and we kept loosing the trail. We didn't pay much attention to the pup.
A stove on the verge of dying, disputes about where to cross the river, and being cold and wet led us to forget about the little brown dog – who had disappeared as soon as we got to the old homesteader cabin.
But, the next day he simply appeared – trotting up alongside us like no big thing after we crossed the first river.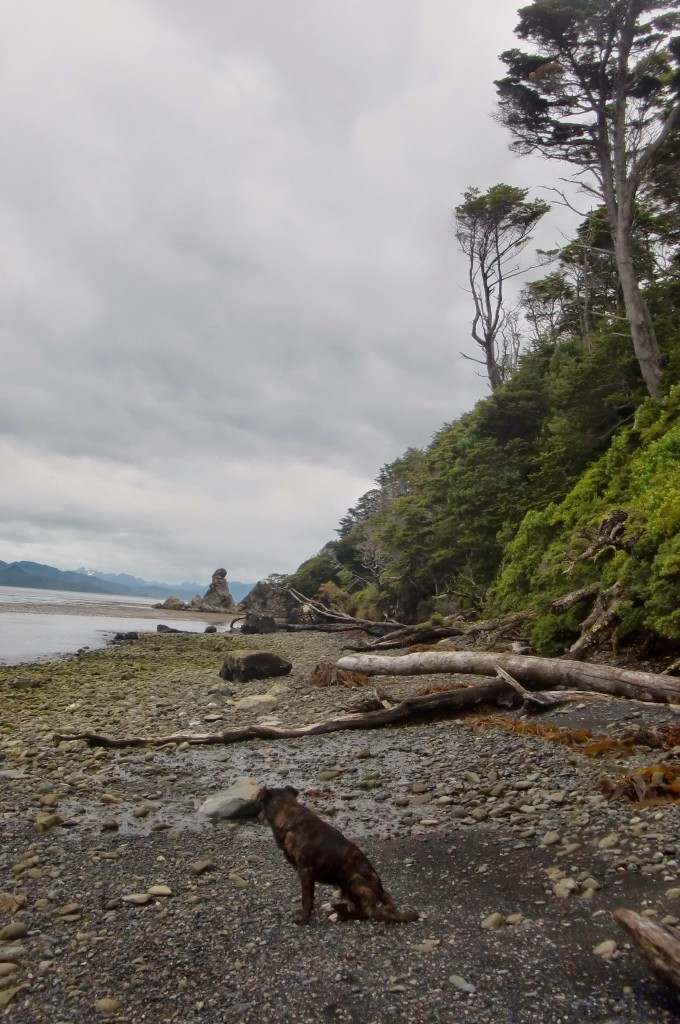 At first he was tentative, any approach towards him was met with a shrinking away, a flinch. But he was always right behind us, up close to our heels – even to the point of accidentally getting flicked with a trekking pole (which didn't help our case in proving we were friendly).
That second day, Señor was a welcome distraction as the trip seemed precarious with the tides. As all dog owners know, all dogs have a voice, a way of talking, so we were able to soothe over our frustrations with each other by figuring out Perrito's voice and having him narrate the trip.
That afternoon, stuck on the point, was when Perrito seemed to decided we were ok. Or, at least a good source of food. Since we had nowhere to go but wait for the tide to drop, we snacked and shared some food with Perrito. But, ultimately, we knew we were in when he curled up near our tent and spent the night.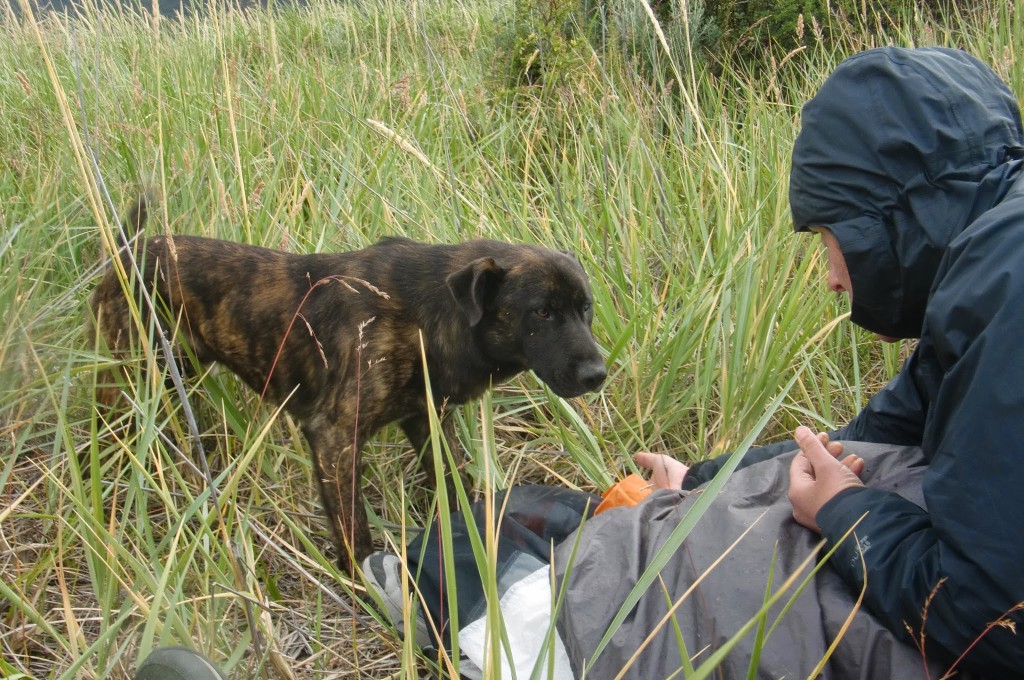 But, at each river crossing, we figured we would loose him, as he would disappear, eschewing our point of crossing, instead finding some other way. Minutes later he would reappear, ready to follow along.
Up muddy paths, ladders, and across rocky beaches, Señor was with us the whole time, often leading the way or patiently waiting for us at the correct turn into the woods.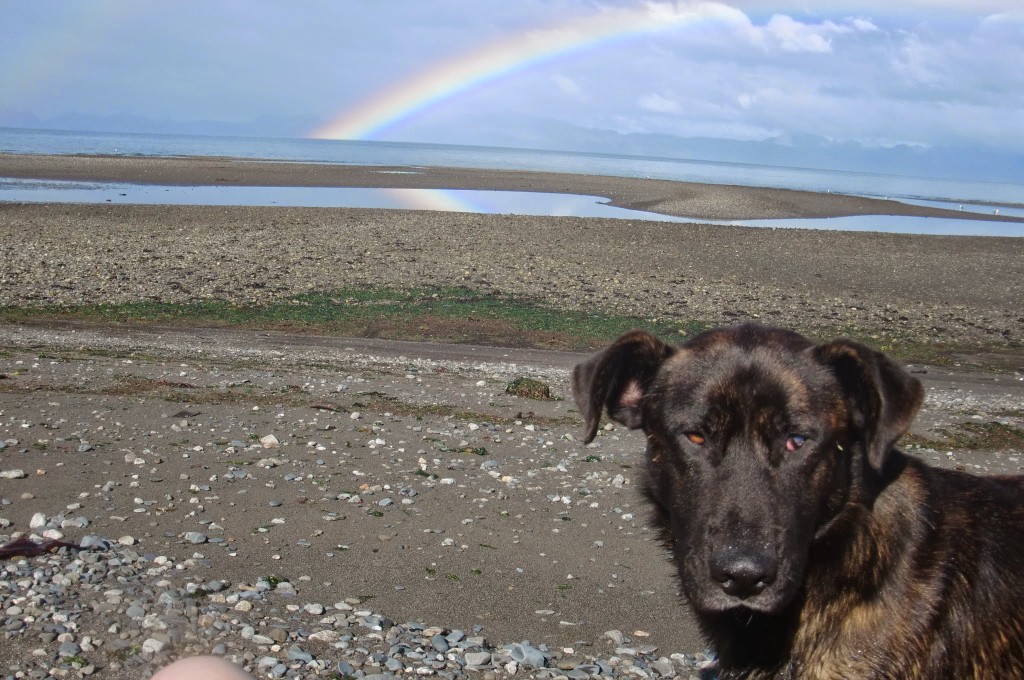 I was nervous for him on those ladders, but it was clear this was not his first rodeo, as he quickly climbed up – and then down – in our sprint to the Cabo Froward. His one seeing eye didn't seem to impact his travel at all.
Señor Perrito joined our team, it seemed, camping with us, traveling with us, sharing our food. He was a welcome guest, a place to direct our energy, a point of conversation between us.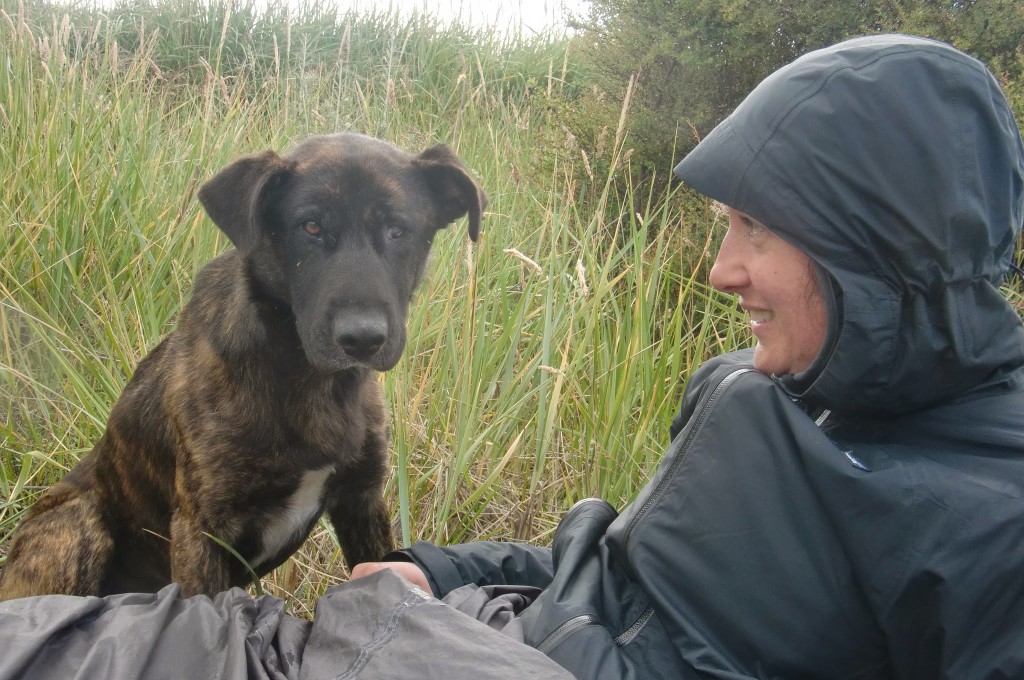 On our last night, we camped late in the night, hoping to catch the earlier bus back to town, excited to change out of wet, salty, muddy clothes. Señor Perrito had traveled all this way with us, but as we walked on the road into the evening, he quickly moved further and further away, sometimes stopping to check back on us, but the distances grew until we no longer saw him. He simply disappeared without a trace.
We were sad to not have a chance to say goodbye to our furry little friend, but figured that he just saw us as two gringas, just another source of food and a little adventure away from home.
Chau amigo, buen viaje!
---
Read more of our Cabo Froward trek here.