Vancouver Island – Part 1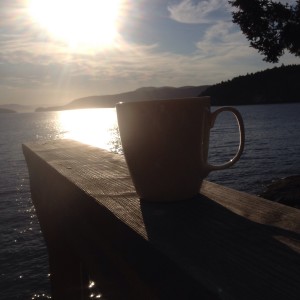 The fact that I made it to Lopez was amazing. And the whole reason I decided to come to the Northwest.
The plan looked fine on paper, but required multiple connections, no late arrivals and smooth transitions. Just like travel always goes, right?!
---
I was suppose to be in Portugal — a trip for 40 with my dearest friend from college (omg, we've known each other for over half our lives!) – but timing and money and little things like earthquakes got in the way. So Portugal was put off until a later date. But, the vacation dates were already in my calendar, so I felt like I should do something.  Banff, Costa Rica, Ireland, Vancouver Island, all different ideas, all seemed potentially good, all seemed to have potential problems. Until a friend called me and said – hey, I'll be on Lopez when you first get there, come visit. And thus, decision made. Just over 2 weeks before I left.
---
The logistics to get to Lopez were complex. Fly to Vancouver, get to the ferry terminal (ride-and-bus combo or take coach shuttle), take ferry to Vancouver Island, take another ferry to Friday Harbor, take final ferry to Lopez. Leave NYC at 7:30 am, arrive in Lopez at 11:30 pm. Connections, timing, boats, buses and airplanes. And then finding out that the Swartz ferry terminal was different from the Sidney ferry terminal 40 minutes before the one and only ferry is suppose to leave…. before the bike is rebuilt….. Luckily, Canadians might be the friendliest, nicest people around and a really nice man helped me figure out that I was in the wrong place, helped me carry my gear and got me in a taxi to make it to the correct ferry landing – in time!
And somehow it all worked out.
And I woke up to this….
The weekend on Lopez was just the kind of vacation that you want – relaxed, good food, good friends, chill.
Turns out island living isn't so shabby.  And a muuuuuch slower pace than Brooklyn – which was welcomed after a kind of crazy spring! I sat around, read, wrote, caught up on some episodes of the new season of OITNB, drank some beer, ate some amazing cinnamon rolls, caught up with my friend and prepped for my trip.