Sweat and Dust: Type 2 Fun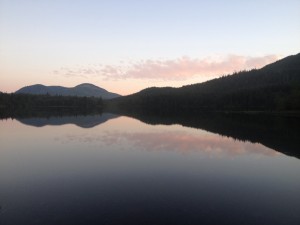 "In the outdoor community, it's said that there are three types of fun. Type 1 is fun to plan, fun in the moment and relatively fun to talk about afterward. Type 2 is fun to plan, a bit of suffering in the process, but worthy of barstool conversation. Type 3 gets a little darker. It doesn't sound like good idea during the planning process; the process is committing, potentially deadly, but the rewards course through the rest of your life."
–Duct Tape, then Beer
'Motherfucker', I muttered to myself as another hill loomed in front of me.
A trickle of sweat dripped from my nose, down my leg, leaving a trail through the dusty grit covering my legs, my whole body.
It was my second day riding dirt roads in BC, through a heat-wave, during a drought. Fire danger alert on high, fire-bans in place, and so-damn-hot.
As I rode through clear cuts, swearing at hills, I questioned my desire to bikepack – maybe I don't really like this, maybe I don't really want to be doing this. Did I get myself in too far? Did I jump the gun, thinking I would actually like bikepacking? Maybe I just can't really bike uphills. Maybe I just don't like biking. Maybe it's too hard…
And, of course, right before I left, news from the Divide race came tricking in.  A rider I have followed, because she is off doing cool rides around the world with her boyfriend, was kicking ass. So, every time I thought I couldn't go on, I would think of Lael out there, riding 180+ miles a day, kicking ass on the Divide, and I'd muster up some energy, thinking — ok, I can ride 70. (and, to be fair, I'd also think – how the fuck does she do it?! how can she ride so far and fast and I can't?!)
But, mostly I was just there. Just taking in the heat, taking in the clearcuts, taking in the hills. Being there. Not thinking about anything other than what was right in front of me. Riding the miles, getting up in the morning, excited to see what would come my way. And maybe that, just that just being is exactly what bikepacking is about, and, maybe, it is something I like.